User-friendly manual change system with extensive complementary portfolio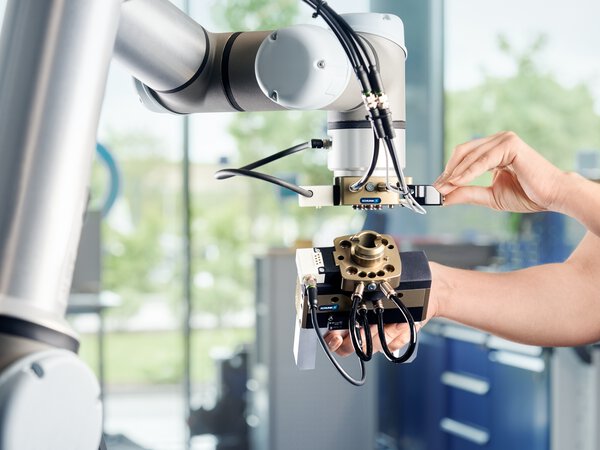 Flexible. Compact. Intuitive.
Manual change system CMS
It's worth changing
With its user-friendliness, diversity of modules, and extensive range of accessories, the CMS manual change system is highly impressive . It can be used on robots as well as in stationary applications, wherever tool changes are important.
Take advantage of its benefits
Increased process reliability
By means of integrated locking and tool presence monitoring in all sizes (sensors optional)
Integrated air feed-throughs
All feed-throughs can be used radially and axially for pneumatics and vacuum.
Basic variant available without integrated feed-through
Direct screw mounting of electrical, pneumatic and fluid modules
Enables versatile energy transmission for controlling a wide range of tools
Manual tool change
The application video shows how quickly and easily tools can be changed with the CMS changing system. The mechatronic gripper EGU and the pneumatic gripper PGL-plus-P are replaced. The high diversity of modules for the change system offers a wide range of media transmission options