The dynamic axis all-rounder – perfectly tailored to your application.
Linear direct axis SLD
The dynamic, versatile axis is perfectly tailored to your application.
The SLD series is a new generation of SCHUNK linear direct axes. The dynamic, heavy-duty axes with electric linear direct drive ensure short cycle times and more productivity in high-speed assembly and handling processes. Due to the high drive forces up to a maximum of 2.4 kN, and a load rating of up to 106 kN, as well as the long service life, the axis is ideally suited for any industry – even for demanding cell production in a dry room.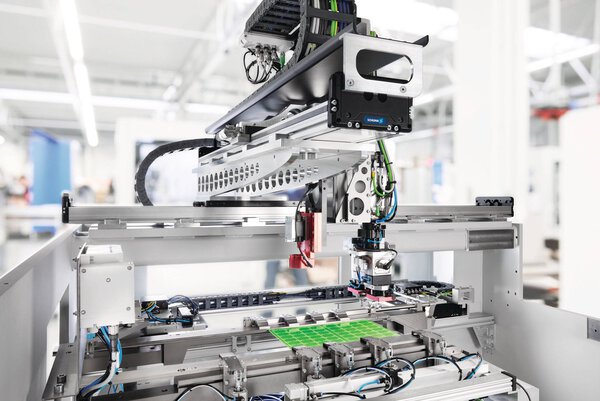 Advantages – Your benefit
Almost no wear parts
for long service life and reliability of the system
No mechanical play between the drive components,
for fast responsing mode and high positioning accuracy
High basic load ratings
for high bearing load capacity and service life
Integrated motor and measuring system in the axis
minimizes interfering contours and space requirement
Can be fitted with absolute path measuring system
less programming effort and time saving when commissioning and in operation
High dynamics for shorter cycle times
therefore a high productivity is achieved
UL certification
for use in the US and Canadian markets
Optional pneumatic safety holding brake as rod lock
for high requirements on machines and personal safety
Optionally certified safety devices according to SIL2/PLd
for applications that place increased requirements on machine safety
Options and special information
Modular encoder system
The linear module is available with different path measuring systems. The incremental path measuring system has a 1Vss interface. The absolute path measuring systems are optionally available with the HIPERFACE®, HIPERFACE DSL® or DRIVE-CLiQ interfaces. Other interfaces are available on request.
Pneumatic holding brake
The linear module is optionally equipped with a safety holding brake. This holding brake is pneumatically actuated. Its function is activated in a non-ventilated state. The holding brake is used to maintain the position of the linear axis in a currentless condition. The holding brake is also suitable for applications in the field of machine safety. Please feel free to contact us.
Further motor slides
The linear axis can be equipped with multiple active motor slides. This allows special designs and customized axis solutions.
Certified encoder system
All encoder systems are certified according to SIL2/PLd. This means that even demanding applications with high requirements in the area of machine safety can be implemented. Please contact us.
Version with food -compliant lubrication (H1G)
available on request as an easy entry solution for medical technology, lab automation, the pharmaceutical and food industry The requirements of EN 1672-2:2020 are not fully met.
Find your personal contact person here.