School visitors and students
Anyone who plays in the global top league also has to attach the highest priority on training its young talent. That is why training at SCHUNK has traditionally been held at such a high value. Talented people who really want to achieve something with their work will find many ways to start a career with us. Regardless of whether you are enthusiastic about technology or if you see your future in the commercial sector – at SCHUNK, everyone can contribute their strengths. In addition to qualified technical training, personal development is also important to us. That means that stays abroad and social internships are an integral part of training and studies.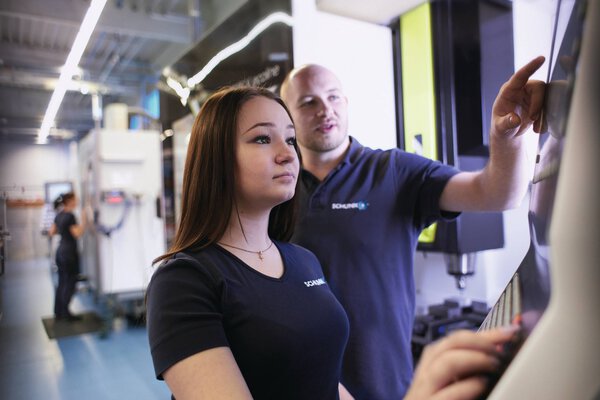 Come in and find out
How can you find out if starting a career at SCHUNK is right for you? By working at SCHUNK! We offer both high school and university students numerous opportunities to get a taste of our day-to-day work:
Study or pre-study internships
Vacation jobs and student traineeships
Practical semesters
Bachelor and master theses
Graduates
If you have you successfully finished your degree, education or advanced training, and want to start an exciting career but you have never heard of SCHUNK before, then you have come to the right place. Highly qualified colleagues are always welcome at SCHUNK, particularly if they are interested in technology and innovations and are ready to achieve something, contribute their ideas and take on responsibility.
Right in the middle from the start
Right in the middle from the start
Working alongside experienced team members, you will learn what is important "on the job". From the very start you will take on your own tasks and as you gain experience, you will take on more and more responsibility. Whether you come to us as part of an apprenticeship, as a student, as a trainee or as a specialist, the same applies to everyone: we will support you in your development with internal and, if necessary, external training. The most important thing is your commitment. Are you ready? Then you may just find Job portal, which is updated daily SCHUNK in our Job portal. We look forward to receiving your application.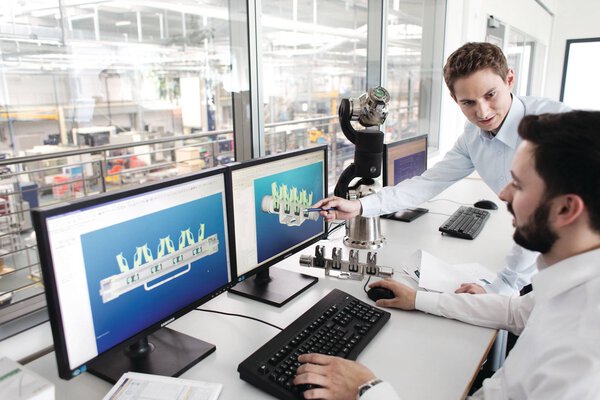 Experienced professionals
Do you feel a little stuck in your professional life and now want more? To learn more, to have more responsibility and more fun with your work? Do you want to be more than just a part of something, and truly achieve something as an active member of a team and receive recognition for your efforts? Then SCHUNK is the perfect place for you. You can find your position at SCHUNK in our Job portal, which is updated daily
It's worth keeping a regular eye on it!
Short paths
At SCHUNK you will find an appreciative, friendly working environment. The doors are open to everyone, the paths are short, and if you have a good idea that has the potential to move us forward, we will be happy to support you in getting more out of it. In doing so, we also make use of highly professional processes and systems with the very highest demands on quality and precision.
Professional systems
Even during your training we leave nothing to chance – we create a detailed training plan together. To ensure that you can "really get going" as quickly as possible, it is important to get to know not only your colleagues, contacts and products, but also our processes. Even if you are already familiar with systems like lean, continuous improvement, TOYOTA, etc., we use a system of our own at SCHUNK which we continue to develop with an internationally recognized expert. With great success. Everything at SCHUNK is highly aware of continuous improvement topics and the numerous ideas and suggestions from our different departments have already enabled us to achieve great success. It is particularly rewarding that work safety has been improved to such an extent that we are one of the few in the industry to be well on the way to "zero accident" statistics.
Continuous change – continuous improvement
Regardless of whether you simply want to do a good job as an expert in your field or if you are constantly looking for new challenges, whether you are drawn out into the wide world for international projects or if you feel better staying in one place – you have every opportunity of making your vision come true with us. What counts for us is that you are working in a role that gives you a sense of fulfillment. We understand that life plans and situations can also change. That is why your duties and career path with us are not rigidly set in stone but can be adjusted individually. There is only one thing we do not allow – standing still. A willingness to undertake continuous training and development is expected. Do you agree? If so, you will find excellent conditions for your future professional and personal development with us.
Let's work together
Discover your opportunities to get started at SCHUNK and become part of the team.